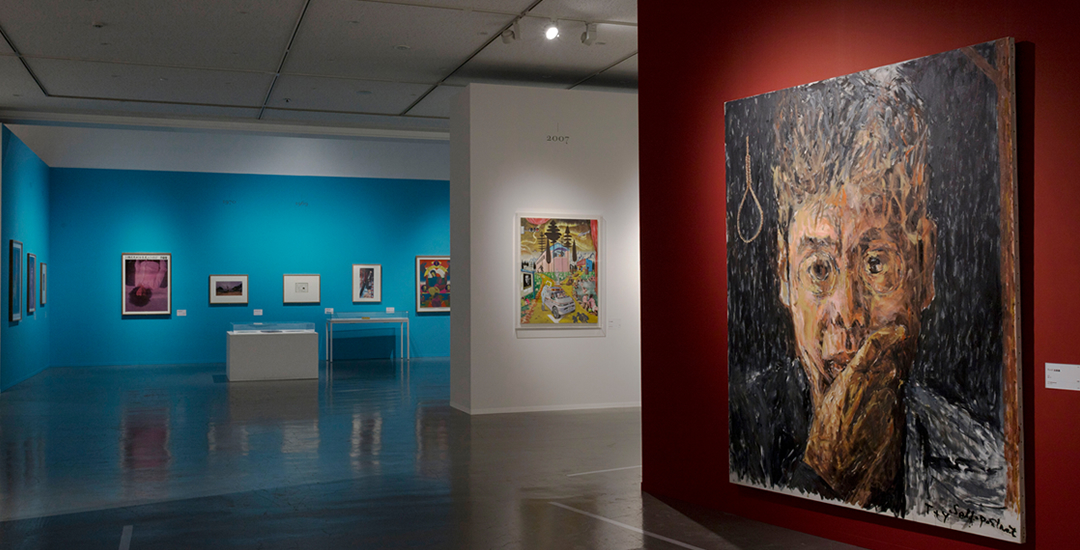 Museum Hours
Tue-Sun: 10:00-18:00 (admission until 17:30)
Closed
Mon (or the next weekday. if Mon is a national holiday), during the year-end and New Year's holidays, and while performing maintenance.
Admission Fee
Fees vary according to the exhibition, please refer to information for each specific event.
*Admission to the first floor is free.
Other Services
Wheelchairs
Wheelchairs can be used free of charge (two available). Please inquire at the information desk on the first floor. The restrooms on the second floor are equipped with spaces for wheelchairs.
Coin Lockers
Coin lockers are available for 100 yen (refunded after use). Items that will not fit in a locker can be deposited at the information desk on the first floor.
Using the Museum
Tickets
Unless otherwise specified, each ticket is valid only for one person on one day during the exhibition period.
Reentry to the museum is permitted throughout the day of admission.
*As a general principle, advance tickets are non-refundable.
Museum Rules
・Except for assistance dogs (for the visually and hearing impaired, etc.), animals are not allowed inside the museum.
・As natural materials such as bouquets of flowers and live plants may exert a negative influence on the museum environment, we kindly ask that you inquire before bringing them inside the facility.
・Smoking is not allowed anywhere in the museum.
・Please do not eat or drink in the museum.
・Please refrain from bringing flammable and other dangerous objects into the museum.
・Umbrellas are not allowed inside the museum. Please leave them in the umbrella stand at the first-floor entrance.
Exhibition Rules
・Please turn off or set your cell phone to silent mode, and refrain from speaking on the phone in the exhibition area.
・Please do no touch the works.
・Please refrain from writing except with a pencil.
 (Please do not make copies of the works.)
・Photographs are allowed in the museum based on the following conditions:
 -Please do not use flash photography.
 -Please do not use tripods.
 -Please do not take video images.
 -Please do not disturb other visitors.
 -Photographs should only be used for nonprofit purposes.
 -Please be aware that photographs of other visitors may infringe on privacy rights.
 -Photography of some works on display may be prohibited.